Welcome to Vietnam! Xin Chao!
So you're thinking of backpacking Vietnam? Wondering how much it'll cost you? Where to go? And how to get around? I spent 27 days in Vietnam, it was one of the best experiences of my life! Maybe… I'm a little biased as it was the very first country I backpacked, my special first, but I'm glad to say its a great place to learn the basics of becoming a savvy world traveler!
Vietnam is still an underrated travel destination, but well established for backpackers.  There is so much to learn and enjoy from the food & culture, to the rugged untamed nature and incredibly rich history. To make things easier for you, here are the basics you should know for traveling Vietnam along with my suggestion of guides from blogs I found very useful! But first here are some of the more popular cities to visit in Vietnam:
The Geography – North & South
Vietnam is located in South East Asia along the South China Sea. It is a long and narrow country, so most travelers start via the North in the city of Hanoi, or South in the city of Ho Chi Minh.  The North has four different seasons and can reach low temperatures in the Winter- bring a Jacket for January! The south is tropical with dry and rainy seasons, its very humid and temperatures can be well over 30'C degrees . Most cities can be categorized as mountainous, coastal or river-lands.
Quick Look at Costs
In 27 days, I spent 12 million Dong which is approximately $540 USD. Unluckily for me this was during the oil recession, so as a Canadian it cost a little more than $800 CDN for the month. This was money I withdrew in Cash at ATMs. Add another $60 USD for my Visa and we can round off for an even total of $600 USD. Not bad eh!
$600 USD was for all my accommodations, travel, food, excursions, motorbike rentals and gifts.
Hostels & Guesthouses range from $5 -10 USD/night (100,000 to 200,000 VND). Most include breakfast and maybe even Supper if you're lucky!
Street food should never cost more than 40,000 VND, or $2 USD. While a dine-in restaurant can range upwards of 200,000 VND (Hotpot), they usually range between 50,000 and 80,000 VND per meal.

Beer

 

in Vietnam

 

is amazing! There are many different brews! Some beers are location specific and range from 10,000 to 30,000 VND per bottle. Tasting all the different beers, including the questionable home brews in Ha Noi's beer street corners was a lot of fun!
 Transportation
The best way to get around in Vietnam is by motorbike, however international licenses can be a little tricky in terms of legality for tourists. Many tourists will buy a bike for $175-$250 USD in Hanoi or Ho Chi Minh City and simply bribe the local police if necessary. It is said to be the best way to travel Vietnam as a backpacker! You can go at your own pace, see small towns and experience the true local Vietnamese culture.
Check out WanderLove and Travelfish for guides on how to prepare yourself and what to expect for a cross-country motorbike experience! If you are looking to purchase a motorbik please check out TravelSwap or Craigslist  for listings.
Cheapest: Night Sleeper Buses
For cheap transportation you'll have to settle for night buses. The new sleepers have individual bunks that are reasonably comfy (over 6'2/188 cm beware) and cheap! Fair warning, the night buses are a rough way to travel, I recommend buying an individual ticket  first before committing to the entire open ticket booklet. Expect  long waits for departure, unfriendly staff that yell a lot, random stops on the side of the road to pee, getting kicked off at 4 am, and possibly loud 90s techno music. The local shops that sell the tickets have no control over the main bus company, so if something goes wrong, which is likely, call the main office.
Overall, my experience wasn't too bad. I used Queen Cafe VIP which is apparently one of the worst companies. However, the buses had WiFi that worked about half the time, blankets and I got to meet lots of other backpackers heading to the same destinations! From Hanoi- Phong Nha- Hue- Hoi An-Nha Trang – Dalat City – Ho Chi Minh City cost me just over 36$ USD. $6 per bus on average. Just remember to call ahead the day before!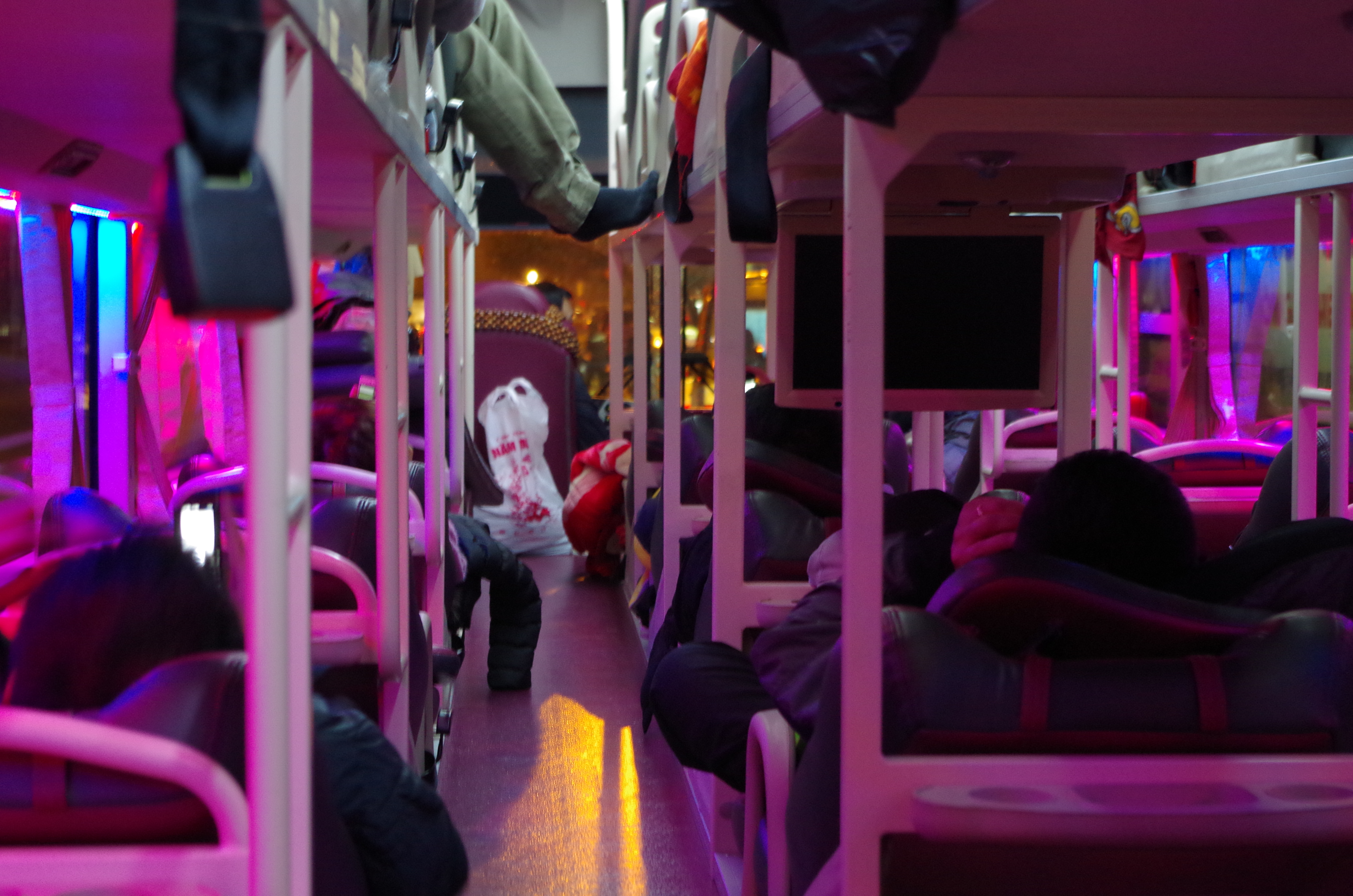 An open bus ticket is a booklet of tickets valid for 30 days. Each ticket is for a pre-selected leg of travel, usually from Hanoi to HCMC. You simply call the day before you want to take the bus from each destination. The buses have select times, which can be from vary widely from departures at 10 pm at night to 5 am. Here are a few open bus ticket companies are as follows:
Sinh Tourist –  formerly 'The Sinh Cafe', a reputable company
Hoang Long Bus – Offer 'luxury' buses
Queen Cafe VIP – super cheap! Ask for Kang at Tasty Restaurant, she sells open bus tickets at half the price of the hostels.
Comfort and Reliability
The last option is to travel by train. It is the most comfortable mode of transportation and by far the most reliable. But honestly, if you are truly backpacking Vietnam comfort and reliability just don't make for good stories. No break downs, crazy drivers or locals sleeping on the aisle floor isn't a memorable experience. But, I get the appeal for mature travelers who don't mind spending a little extra for a good night sleep.
There are local trains to most small towns in Vietnam, and tourist trains that frequent the most popular cities. The tourist trains also offer a little more luxury options including VIP Berths for up $290 USD, however basic seats can be purchased from $12 to $64 depending on your intended destination.  This is a funny little website by a guy who really loves trains! He can be your go to for travelling by train in South East Asia, enjoy your padded cushions and washrooms!
The Currency – The Vietnamese Dong (VND)
This is so important! You spent all those months saving for your trip, so lets get familiar with the local currency before you spend it. Download the Currency Exchange App 'Xe' on your phone, it will update when connected to the internet and keep the latest rates for many currencies stored on the app for offline use. For other money saving apps check out this post.
The VND currently exchanges at $1USD to 22,300 VND.The government currently issues six polymer bills: 10,000 (Brown); 20,000 (Blue); 50,000 (pink); 100,000(green), 200,000 (red) & 500,000 (light blue). ATMs will dispense up to 5 million Dong in 500,000 Dong bills that can be hard to break at local street shops, so try to keep a good balance of bills on you. Tip: Keep track of expenses you covered for friends, and break the larger bills at large established restaurants or convenience stores. The best way to exchange cash in another currency for VND is through a commercial bank which are located in most big cities.
Going to the Market
TIP: Ask you hostel staff what is the going price of a fruit, choose a fruit, any fruit. I chose dragon-fruit because I really like it and its easy to spot from far away since its bright pink. When you enter a market and want to buy fruit for the day, you will have a reference point for the merchant's quote. Now you can assume the price of most goods are doubled or tripled for tourists.  In Da Lat, the price for a dragon-fruit was roughly 7,000 VND, but I was quoted 20,000  by the merchant and negotiated it down to 10,000. Many tourists complain about feeling ripped off by the locals, well its your responsibility to find out how much things actually cost! Markets are based on the availability of information, so whether its Wall St. or the Ha Noi Night Market, these rules apply!
The History and Culture
Unless you haven't heard, Vietnam has had a long history of War dating back thousands of years. From Champa Kingdoms in Cambodia, to Chinese Dynasties, French Colonials and most recently the American War, the Viet people have been through A LOT! Since the Vietnamese intervened in Cambodia to stop the Khmer Rouge in the late 70s, the country has finally emerged into a period of peace.
It goes without saying to be respectful of their culture and political philosophy as a democratic communist nation. If you are French or American, you may get a little bit of a cold shoulder in the North near Loas, but you'll also be really appreciated in the South! There is especially a lot of love for Californians, I don't know why…
The young Vietnamese I met were very impressive! Be open to stopping for a short conversation as the students often like to practice their English with tourists. Among those I met, some spoke fluent French, some English, currently go to technical universities or frequent night schools for learning English.
I hope you enjoy Vietnam, just remember to be safe, always get two or more quotes before committing your money, keep track of your money and have fun!
[ssba_hide]