Heijo Palace (
平城宮)
The one thing I loved most about Nara's Heijo-kyo  was the amazing quality of the reconstructions. Japan is well-known for it's traditional carpentry, arguably even more so than China, where it originated. Seeing the beauty and detail in person, and the reconstruction efforts recorded in the museum located inside the Daigokuden (first hall) building was beyond impressive! It truly is a palace!
I've been trying to find a video documentary on the palace reconstruction, but alas I can't find anything half-decent, if you can please link it in the comments down below.  However, I did find a recommendation for "Begin Japanology" and "Japaneology Plus" which feature half hour episodes on pretty much anything Japan, including 'Sashimono Woodworking'.  There is also a Core Kyoto episode on Buddhist Architecture and the carpentry technique of joinery. A shrine carpenter is called a 'Miyadaiku', which is a very special skill that is unfortunately dying out in its traditional form.
Todai-ji Temple Gallary
I'm going to skip the details of the excavation site and history of Palace. The Nara Period really marked the beginning of a centralized empire in Japan with administrative ministries of command based off the Tsang dynasty model. There are a lot of sources available that summarize it pretty well:
Todai-ji Temple  (
東大寺)
The Todai-ji Buddhist Temple is one of the highlights of Nara. It houses the world's largest bronze statue of Buddha, known as Vairocana. In 743 AD, Emperor Shomu commissioned the construction of the Buddha Statue and soon thereafter the Great Buddha Hall was erected around the statue. The temple  is home to Japan's Kegon school of Buddhism and preserves many cultural treasures such as traditional rituals for peace and prosperity.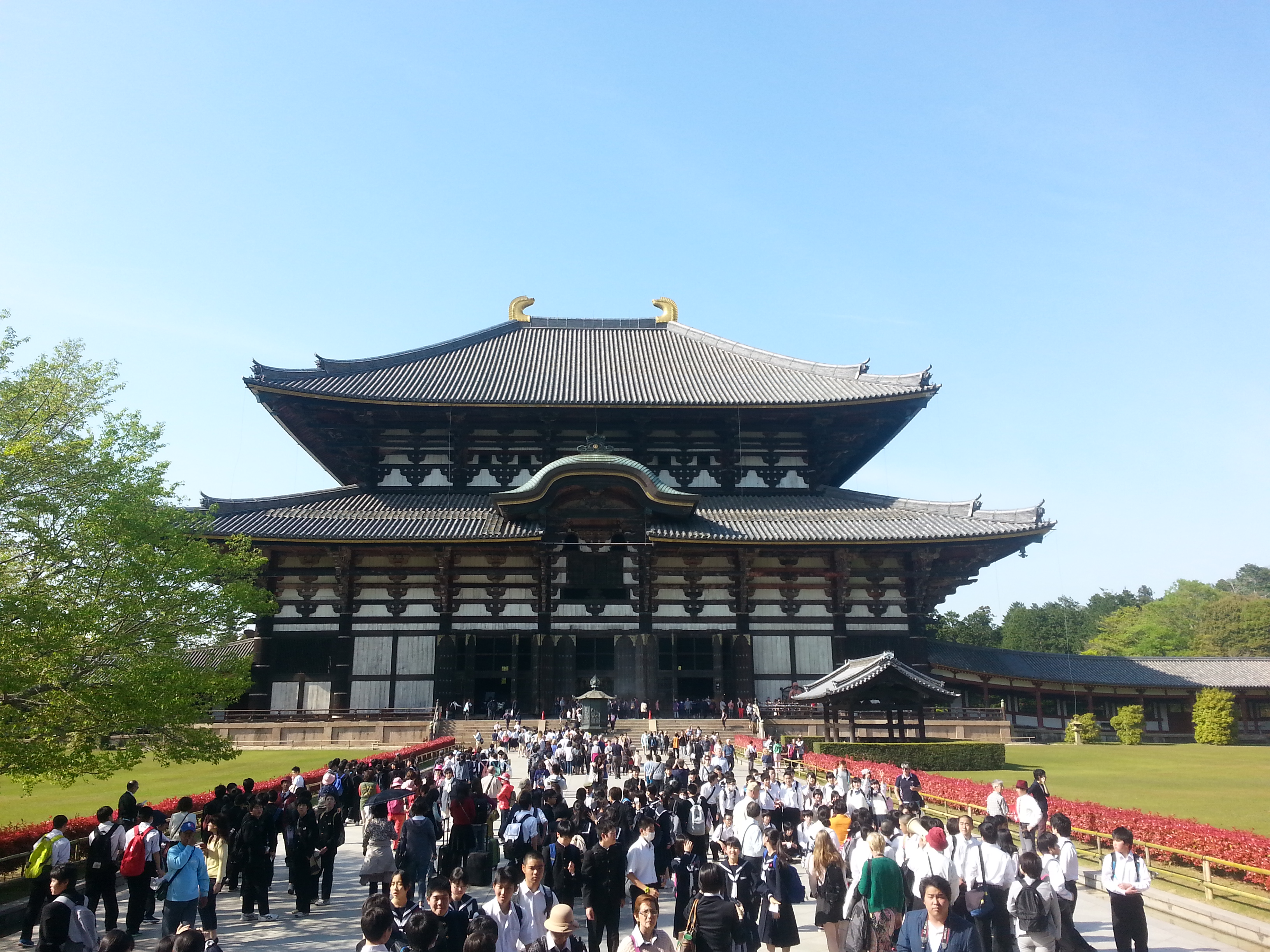 Todai-ji Temple is more than just a wooden building with a bronze statue. The spirit and teachings have endured almost 1,300 years with the Temple and Pagodas having been restored or totally reconstructed due to destruction from earthquakes and fires from warring clans.  If you are interested in learning more about the history of Nara, the temples and shrines, the prefecture had an audio guide published in English and Mandarin and made available for free on the iTunes store!
I really enjoyed my trip to Todai-ji Temple and the 600 Yen admission to see the Great Buddha Hall was totally worth it. There are so many temples and shrines in Japan, it becomes a little boring and repetitive to see each town's precious landmarks. But even after weeks of touring around Kyoto's ancient sights, walking around Nara Park was really special. It's so peaceful and very child friendly with all the friendly deer. Although the main Todai-ji Temple was a bit crowded, the day trip turned out to be pretty relaxing. Because Nara is so close to Osaka and Kyoto, I look forward to returning again one day soon! A big thank you to Fred and Gert for letting me tag along and for their awesome photos!
Quick Resources
Additional Documentary
Pages: 1 2